It is that time again where you get a chance to show Supply Chain Digest your supply chain wit! Think outside the box and send your caption for the cartoon below. Best chance to win is to make sure your caption is for the person speaking.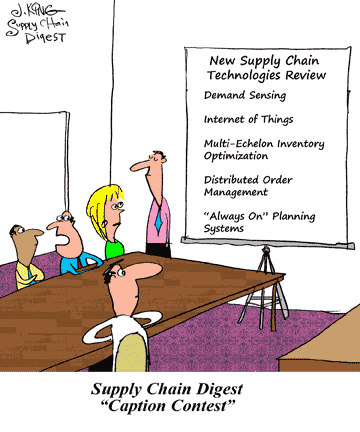 Copyright SCDigest 2015
View more on the SCDigest website
Each caption winner will receive a nice framed picture of the cartoon with their winning entry and acknowledgement from SCDigest. Every six months, SCDigest readers will vote on the best cartoon for that period among the bi-monthly winners, and that person will win a $50.00 American Express Gift Card!
Send in your entries today!
Deadline: 8:00PM ET April 18, 2015
Winner announced in the March 19th SCDigest Newsletter.